A Toyota Yaris introduced in Pakistan by Toyota Indus. In 1999, the Toyota Yaris was first unveiled as a subcompact hatchback vehicle. Toyota later launched Yaris in several countries as a sedan car (also known as Toyota Vios). The Booking will be start from March 2020 onwards. Yaris replaced both Corolla XLi and GLi 1.3L models. It comes in six variants; you have plenty of options to choose from, therefore. Toyota Yaris can be bought with either 1300cc or 1500cc engine displacements.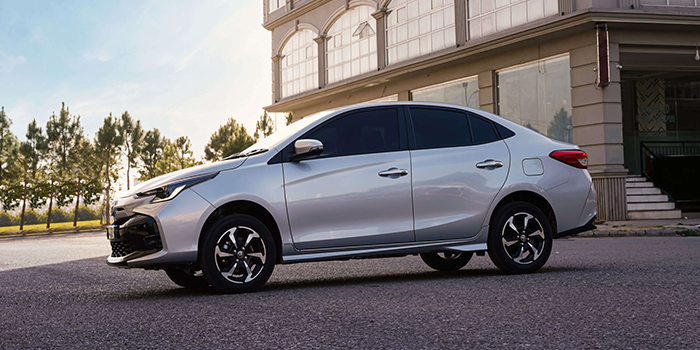 The Unique Design of Yaris 2020:
The exterior of the Yaris 2020 features a special and unique design language. In the trapezium style, the rear end houses sharp side swept headlights and a horizontal piece of chrome trim running the length of the standard tailgate case. In Pakistan, the overall exterior of the Yaris features a very special design language that helps it to distinguish itself from its rivals.
The Interior of the Yaris giving us tremendous look having fabric-covered front and rear seats. Black and polished silver trim bits are used in the Yaris 2020 interior. Air conditioning, 6 airbags, cup holders, power lock doors, power steering, power windows, tachometer, and audio stereo speaker systems are standard features. Features include power-adjustable mirrors, front fog lights, and heated front seats on the higher end U model. For a sedan of its exterior size, the overall interior of the Yaris has a decent amount of interior space in both the front and rear. With its soft suspension configuration, it also provides a good level of safety, easy travel, and a good level of interior elegance.
The engine is 1.3 liter DOHC and 1.5-liter DOHC.In the gare box 7-speed auto(CVT) and 5-speed manual. The Yaris' mileage is based on the power of the engine. The 1.3-litre engine is 14-16 km/l, while the 1.5-litre engine is 14-16 km/l. The price of the Toyota Yaris is Rs. 2,509,000 to 2,999,000.